book of the Week: Secrets by Robin Jones Gunn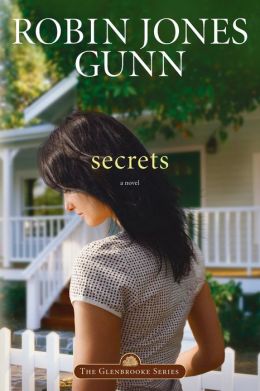 In the book Secrets, Jessica Morgan is searching for a new start. She has run away from home at the age of 25 years old. That is where the fun begins! She ends up in a car accident, has problems with her boss, and goes on a mission's trip to Mexico as a chaperone for a group of teenagers. During all of this she is keeping secrets and trying to keep a distance between herself and others because she is afraid of her secrets coming out. Along the way she learns that life is journey, that we need friends, and that God knows us and our secrets and loves us anyway. She also learns that secrets have a way of catching up with us.
Kyle Buchanan ends up being Jessica's knight-in-shining armor. He comes to her rescue at her car accident, and always seems to be there when Jessica needs helps. Kyle is well known around the town of Glenbrooke. He is a firefighter and has dreams of building an orphanage in Mexico. He has secrets of his own though.
Can Jessica trust Kyle enough to share her secrets? Can Jessica trust God enough to surrender her life to Him?
This is the type of book that I love to curl up with on a cold snowy afternoon so that is exactly what I did. While the snow piled up outside, I curled up and read Secrets which is a sweet and funny love story. Robin Jones Gunn drew me into the story from the very beginning of the story and I couldn't put it down until I finished it. (I guess it is a good thing that I couldn't go anywhere. ;-) ) As I was reading I felt like I was right there, that I was friends with Jessica and Kyle and everyone else who is a part of Glenbrooke, that I was a part of their world. I can't wait to read the next book in the series.